Our other preferred "performance" bit, when you like an original triangle style configuration.....

GWR's "Super Purple" Lathe Bitstm
There is no equal in automotive triangle bits, this quality is normally only sold to the machine tool industry!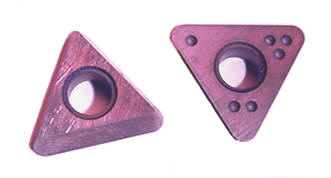 Why GWR Purple PVD bits are the best in the world...
First, our bit is positive rake! This allows for a finer finish cut when compared to negative rake designs. Additionally, they will shave through hard spots, not bump over them. This produces truer rotors, with less possibility of run out.

Second, our bit is larger than the most common brands of lathe bits like Ammco, Hunter, Snap-On, etc., it has a 3/8" I.C. vs 1/4" I.C (Inscribed Circle diameter). The larger the bits I.C., the better they cut on all fronts and the longer they last because there is less wear on an individual point of contact.

Third, the normally sharp points (like most triangle bits) are rounded to an extreme degree. This creates a unique slicing or pealing action of the rotor metal, not the ripping or tearing action common to a standard sharp point design. An additional benefit is you can index the bit, move it to the opposite tool holder after three turns, to increase the number of cutting positions to six.

Fourth, but probably most important, we use the finest grade of carbide and then process it through several heat treatment processes, including a final P.V.D. coating to enhance edge sharpness. This process is far superior to all other processes, including titanium coatings. Unconditionally guaranteed, these are the finest bits money can buy! Plus you pay no more because they double the number of cuts per bit, when you index them.

Our PVD coatings are smoother, denser and maintain a sharper edge...
they cost you less to use than standard bits!

Notice the layering effect that is clearly visible on the surfaces of our carbide lathe bits. Also notice the roughness of the actual carbide below our coating, this would be your cutting surface if you aren't using GWR's PVD coated bits.


Extreme Magnification