It all started here....
over 30 years ago!



100% SATISFACTION GUARANTEE!


Voted Undercar Digest Magazines "Top Tool and Product" for...
1996, 1997, 1998, 1999, 2000, 2001, 2002, 2003, 2004, 2005, 2010 and...

"2012"

80% OF ALL BRAKE SERVICE COMEBACKS
ARE CAUSED BY BRAKE NOISE.
Even after a quality brake job, grooves, irregularities and inclusions in the rotor/drum friction surfaces can cause harmonic vibration, resulting in annoying brake squeal. Your customer comes back for a recheck, and that causes your operation time and money.
Now there is a fast, easy-to-use solution to the brake noise dilemma - The Silencer.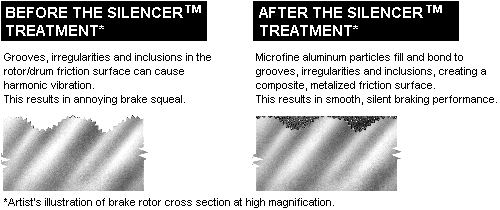 ---
SPRAY THE SILENCER
DIRECTLY ON ROTORS AND DRUMS...
TO STOP NOISE AT THE SOURCE!
The Silencer is a revolutionary spray-on metalizing treatment designed to prevent brake noise at the source; the rotor. That means fewer comebacks, higher customer satisfaction and greater profits for the shop actually performing the installation.
The Silencer has been tested and proven on the world's finest European, Japanese and American vehicles and the most demanding roads. Unlike other products that merely dampen vibration, the Silencer stops squeaking before it starts! When applied as directed, micro fine aluminum particles form a molecular bond with the rotor/drum friction surfaces. This composite surface finish allows for a more controlled burnish, one that ends annoying vibration and brake squeal at the source. Braking torque is also increase up to 8% while braking action actually feels smoother to the touch... your assurance of a quality brake job.
"A brake job is not complete unless you're armed with the Silencer - Brake Conditioning Treatment".
---
the SILENCER
COSTS LESS THAN .25¢ CENTS PER ROTOR...
WHEN USED AS DIRECTED
Just some of the benefits:
Effective on all brake systems - disc or drum, domestic or import, with or without ABS
Benefits last for one year of average driving or more
Waterproofs components
Temperature effectiveness proven to be between " -100 F and +2000 F "
Prevents oxidation of rotors and drums
Silences annoying brake noise even, on stubborn "problem brakes"
Improves braking torque (drivability) by up to 8%
Extends brake pad life and effectiveness at all levels service
Prevent rust and seizure of sliders, lug nuts and mounting threads
Synthetic overspray will not damage calipers, rubber components or seals
Saves money by reducing the customer comeback rate
Saves shop-time by not tying up bays for redo's
Increases customer satisfaction.
Often imitated, duplicated and copied...
but never equaled!

Several of the largest chemical companies in the world have now made copies of our popular brake conditioning treatment... None are allowed to duplicate our patented formula but unfortunately some are actually dangerous! If you have been approached by sales groups touting they have a brake rotor treatment spray, be sure to call us before you take a chance on one of them. It may save you a major law suit, or much worse. This is no joke, you are dealing with peoples lives when you work on their brakes. We are the only product approved for use on brake rotors, so why use a cheap copy when the original is the same price as an imitation?
Get a higher quality bit and save 50% or more.

Send email to: sales@gwrauto.com