Stop Brake Noise Starter Kits
Everything you need to stop annoying disc brake pad noise, squeals or squeaks!
The only OE Approved Systems, by GWR Automotive Products

1 (800) 266-4497

G.W.R.PRESENTS
theSILENCERTM DIY/BASIC STARTER KIT
#90-9001
(Note: This kit is for DIY customers who do not have a brake lathe or access to one. If you are a Dealership or Independent Service Center, please scroll down to see our Full Professional Kit for Brake Technicians)
OEM Approved Brake-Conditioning Treatment System
(Includes: the Silencer, Pastelub-2400, Ceramlub-2800, Flex-hone for Rotors, GWR Brake Soap, Rotor Brush, Instructions)
Description

Picture

Part #


Suggested $


STEP #1 (Cutting)

If you have a brake lathe, please skip down to Deluxe Kit.

STEP #2 (Cross-Hatch)

1 - Flexible Hone for Brake Rotors
(A real crosshatching tool! The only way to put a proper pattern on the friction surface, and in just 10 seconds)



65-0120


$48.95

STEP #3 (Wash)

1 - GWR Brake Soap tm (Tub)
Super Surfactant, Non-Phosphate formula w/Anti-Corrosive agents and no oil like dish washing or bathroom soap.






90-5001T


$8.00

1 - Custom Rotor Cleaning Brush
(Special curved design fits arch of rotor, for maximum, easy cleaning)






65-0057


$5.00

STEP #4 (Condition)

1 - the Silencer tm
The only safe Brake Conditioning Treatment
Based on OE Swiss Formula and OE Approved
(Full Can)






90-0001


$15.95

STEP #5 (Lubricate)

1 - Pastelub-2400 "Metal to Metal" Brake Lubricant. The only Extreme-Temp Real Synthetic Moly Brake Lube (Full Tub)



90-2400


$16.95

1 - Ceramlub-2800 Metal/Rubber Brake Lubricant. Ultra-Temp, Real Synthetic, OEM Brake Lube... the Purple one! tm (Full Tub)





90-2800


$16.95

1 - Technical Literature Package

GWR-Tech Pack

$0.00

YOU GET EVERYTHING... Total Shop Value

$110.80

Special Web Promo Price...
$69.95

(Regular Shop Value... Well Over $100)

Please call 1(800) 266-4497 to place your order!

Why we are the #1 system in use today......
Increases overall braking torque up to 8%, safer vehicle

Pads wear more evenly, this helps eliminate pulling

Real Synthetic tm dry-film lube, does not attract dirt

7+ times the anti-fretting (metal wearing) property of silicone

Slows down burnish process for a more efficient brake-in

Silences even the most stubborn vehicles, especially foreign

Five times the temperature rating of common brake lubricants

Average per axle-set cost is between .75¢ and $1.00

This is the only "complete" system for brake service
Our starter kit was developed with the help of the OEM's and is the easiest way for a technician or repair shops to perform the procedures required to eliminate service comebacks.
The Silencertm brake treatment spray has been nationally and internationally recognized for over 20 years. It won Undercar Digest Magazine's "Top Ten Tools and Products" contest in 1996, 1997, 1998, 1999, 2000, 2001, 2002 and 2003... an unprecedented 8 years in a row. It is used worldwide by 10's of Thousands of New Car Dealerships, Shops, Fleets and consumers on a daily basis... to set up the perfect burnish between a new pad and prepared rotor.
One kit, provides brake technicians with all the necessary tools and the instructions to perform a brake service technique that actually increases the final braking torque by up to 8%. If nothing else, wouldn't you want the safest braking system available on your vehicle? If your a service center, doesn't your customer deserve the same?
Order Your Kit Today!!!
Note that there is enough product in a kit to perform up to 10 brake jobs and the tools will last for 50 or more, this is an incredible bargain.

Are you a professional shop doing daily brake service?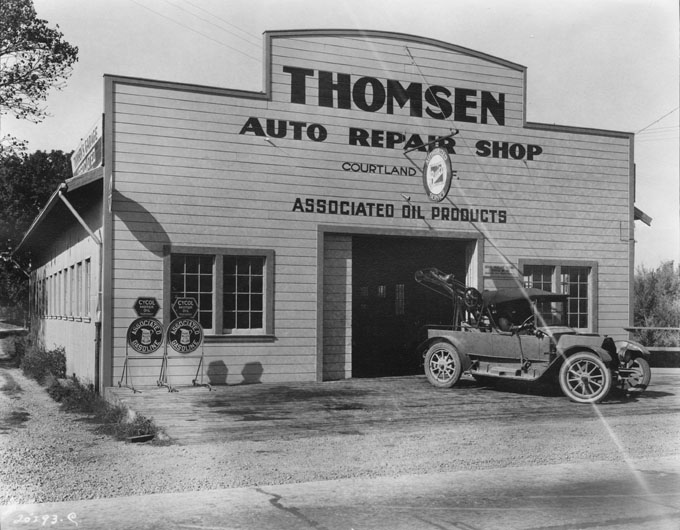 Sacramento, CA (Circa 1925)

Then you need our professional version
that updates your brake lathe too.

GWR's DELUXE STARTER KIT

Now Available at an incredible Special Introductory Price!
(Please note that we limit the number of kits available at this price)

This specially designed kit is for High Quality, Production Shops and Service Centers!
It includes the GWR Standard Starter Kit above,

PLUS...
the OEM Approved GWR Round Lathe Bit System (or optional PVD system), a 4-Spring Silencer Assembly,
a Clip-On Silencer/Chip Deflector and more.
Please call 1(800) 266-4497 for complete details!
(Note that Tech Support Department is open 1pm to 7pm)
Deluxe "Brake Service" Starter Kit

Part # 90-9999
Description

Picture

Part #

Suggested $


STEP #1 (Cutting)

1 - Stainless Steel Mini Wire Brush, it leaves no steel residue on parts. (Us to clean surface rust from hub and spindle mount area before cutting and remounting rotor)




65-0096

$4.00

1 - Round Bit Lathe Conversion Kit (L & R Holder Set w/ 2 Bits)
Cut rotors faster, smoother and more economically than triangle style bits, over 15 individual cutting positions on one bit!
Note: Triangle "PVD" Super Purple Bits can be substutited.


65-0066K

$79.95

1 - HD "Thick" Combo Clamp-On Silencer / Chip Deflector Tool Come with New Velco "Hold Down Strap"
(This is the newest design, with twice the life and velcro strap)




65-0185

$36.95

1 - Four Spring Silencer Band will perfectly balance all vented rotors, plus it lasts 5 times longer than rubber/lead ones.
(4 Piece w/ Neoprene Centers)


65-9800

$39.95

1pa - Plated Steel "S Hooks" for supporting loose brake calipers
(Never allow fragile rubber brake hoses to hold the weight!)




65-9700S

$12.95

STEP #2 (Cross-Hatch)

1 - Flexible Hone for Brake Rotors "A Real Crosshatching Tool"
(The "only" way to put a proper pattern on the friction surface, plus it takes just 10-15 seconds)





65-0120

$48.95

STEP #3 (Wash)

1 - GWR Brake Soap tm (Full Tub)
Super Surfactant, Non-Phosphate formula w/Anti-Corrosive agents and no oil like dish washing or bathroom soap.





90-5001T

$8.00

1 - Custom Rotor Cleaning Brush
(Special curved design fits arch of rotor, for maximum contact and ease of cleaning)





65-0057

$5.00

STEP #4 (Condition)

1 - the Silencer tm "Over 30 Years on the OEM Platform"
The only safe Brake Conditioning Treatment! Based on OE Swiss Formula, does not contain Mineral Sprits as do the cheap copies.
(Full Can)





90-0001

$15.95

STEP #5 (Lubricate)

1 - Pastelub-2400 "Metal to Metal" Brake Lubricant. The only Extreme-Temp Real Synthetic Moly Brake Lube, OEM for 30 years.
(Full Tub)


90-2400

$16.95

1 - Ceramlub-2800 "Metal/Rubber" Brake Lubricant. Ultra-Temp, Real Synthetic, OEM Brake Lube... The Original Purple One! tm
(Full Tub)





90-2800

$16.95

1 - Technical Literature/Instruction Package

GWR-Tech Pack

$0.00

YOU GET EVERYTHING... Total Shop Value

$284.55
GWR Internet Price...
$165
Note: Our tools may perform hundreds of brake jobs before needing replacement.

You'll actually pay for this entire kit buy stopping just one service comeback!
Don't miss out on this kit promotion, save $100 off suggested shop prices!

Note that all tools in the above kit are available individually.
Click here for complete line of GWR tools

Stop Aggravating Brake Noise... Guaranteed!
Want to learn how? Click the Stop Sign!


Please call 1(800) 266-4497
to place your order!
Tech and Sales Departments are open between 1pm and 8pm EST

*Note: These are limited time promotional prices and may be withdrawn at any time, without notice.




---