---
BRAKE FLUID TESTER
BFT-1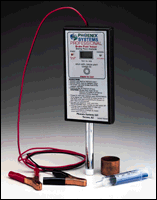 WITH PHOENIX SYSTEMS NEW BFT-1 YOU'LL BE ABLE TO PROVIDE A NEW AND VALUABLE SERVICE TO YOUR CUSTOMERS.

Use direct boiling point analysis to accurately and consistently determine when brake fluid replacement is required.

Brake fluid is the most abused fluid in your car. Brake fluid should be replaced every 24 months or 24,000 miles, in the absence of OEM recommendations. Two types of contamination affect brake fluid.
• Particulate- Created through the physical wear of components within the hydraulic system.

• Moisture- Brake fluid is hygroscopic. This means it absorbs moisture. Moisture is absorbed through rubber parts such as brake hoses, caliper seals, and wheel cylinder cups.

Why flush the system ? Either type of contamination can cause serious problems and should be flushed from the system. Why?
• As brake fluid absorbs moisture, the boiling point is reduced and corrosion can occur.

• Due to the high temperature created in a brake system, the reduced boiling point can cause the brake fluid to boil. This condition, referred to as "brake fade" causes the driver to lose all or some of the brake pedal.

The Solution
Flush the hydraulic system using the Phoenix Injector™!

Phoenix Systems Brake Fluid Tester The Phoenix System Brake Fluid Tester measures the boiling point of brake fluid. The tester actually raises the temperature of a sample of brake fluid until the boiling point in reached. The unit then displays the measured boiling temperature on the LCD display. This is the only accepted means for testing the safety of brake fluid.
Features include:

• Simple operation:

Step 1. Transfer brake fluid sample to test cup.

Step 2. Insert BFT-1 probe into test cup and "Press To Test".

Step 3. LCD displays brake fluid boiling point in 20-60 seconds.

• Large easy to read LCD display

• +/- 3% accuracy
Phoenix Injector Universal Cap Adapter
Click here for more information about ...
When you're ready to order your system, simply click appropriate gun...
"Specifications and Ordering Information"

Universal Cap Adapter | Brake Fluid Tester

---