---
WHAT CAN YOU DO WITH A PHOENIX INJECTOR?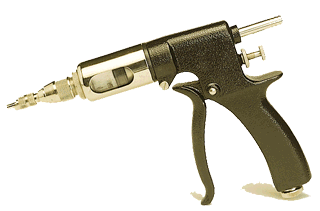 1. Bleed clutches and brakes, including ABS in minutes.
2. Flush hydraulic systems using pressure or vacuum flush. The Smart-Pak is equipped with Pedal Flush accessories.
3. Bench bleed any master slave cylinder in minutes, like quick-take-up masters in under 3 minutes.
4. Perform RFI, Pulse Generation, Pressure and Vacuum techniques for bleeding or flush.
5. Bleed and flush motorcycle brakes and fill fork tubes.
6. Meter and inject liquids and gases.
7. Flush electronic and CIS injectors.
8. Leak test hydraulic components, like automatic transmissions.
9. Test pressure and vacuum sensors.
10. Bleed and Flush power steering systems, like DELCO.
11. Power flush carburetors circuits.
12. Test and diagnose emission control systems.
13. Test and diagnose cooling systems.
Note: Petroleum fluids require special seals
Click here for more information about ...
When you're ready to order your system, simply click appropriate gun...
"Specifications and Ordering Information"

Universal Cap Adapter | Brake Fluid Tester

---