Brake Bleeder
"The World's Best"
OEM APPROVED by GM, HYUNDAI and Other Vehicle Manufactures,
as well as Brake and Clutch Manufactures like Raybestos, F&S, Luk and many others.
The "only" bleeder gun and system that utilize patented "RFI" Technology!
(Reverse Fluid Injection)

Air naturally rises in a liquid, why have we been trying to push it down for 50 years?

We have a system that is just right for your situation, please review all the tools and then call us with your questions.
We will happily explain various gun applications and how each one is uniquely engineered for a specific job.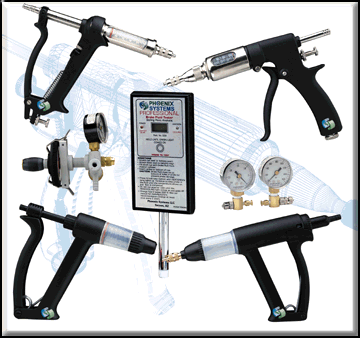 What is a Phoenix Injector?
Each Phoenix Injector is a sophisticated hand pump capable of directly
pumping liquids and gases (air) at pressures from -20" Hg to 150 PSI.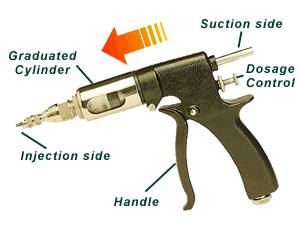 Simply squeeze the handle to inject fluid.
When the handle is released, fluid automatically refills the cylinder.

RFI

RFI (Reverse Fluid Injection): A new method developed by Phoenix Systems guarantees RFI™ is the quickest, easiest and most efficient method for bleeding hydraulic clutches and brakes. In fact, you'll never have problems again bleeding clutches on Ford Ranger, Ford Full-Size, Jeep or GM trucks.

(See schematic of brake system below)
Pressure

PRESSURE BLEED/FLUSH: To use the tool for pressure bleed or flush, insert its Universal Port Adapter (UPA) into the master cylinder reservoir. With the bleeder valve open, fluid is injected from the master cylinder reservoir and out the bleeder valve. Adapters are available for screw cap reservoirs.

(See schematic of brake system below)
Vacuum

VACUUM BLEED/FLUSH: By reversing the modular quick couplers, the Injector can be used to vacuum bleed or flush. When the handle is depressed, the fluid is drawn out of the bleeder valve and injected into a capture container.

(See schematic of brake system below)
Bench

BENCH BLEED: The Phoenix Injector™ is the most effective and simple tool to bench bleed master cylinders. Use a combination of pressure and RFI™ techniques to perfectly bench bleed quick-take-up masters in under 3 minutes. The Injector can be used on any master cylinder.

(See schematic of brake system below)
RFI

Reverse Fluid Injection or RFI tm injects fluid at the low points of a hydraulic system, the slave bleeder screws on calipers and wheel cylinders. RFI tm takes advantage of the "laws of Physics", that air rises in fluid. A complete brake system is bled by forcing air up and out the master cylinder reservoir.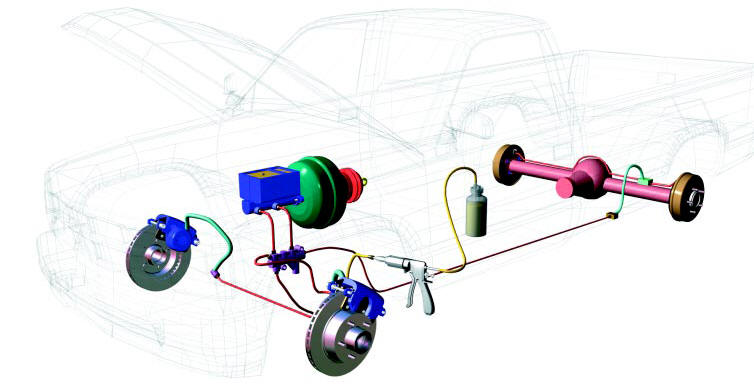 Pressure

During pressure bleeding the fluid in the reservoir is pressurized, via the rubber nose adapter. The pressurized fluid is allowed to pass through the master cylinder and through the metal tubing, eventually arriving at the bleeder valves. When the bleeder valves are opened, the pressurized fluid and most system air will be forced out the bleeder valves. It is recommended the system be RFI bled after a pressure bleed, this assures any remaining air is cleared.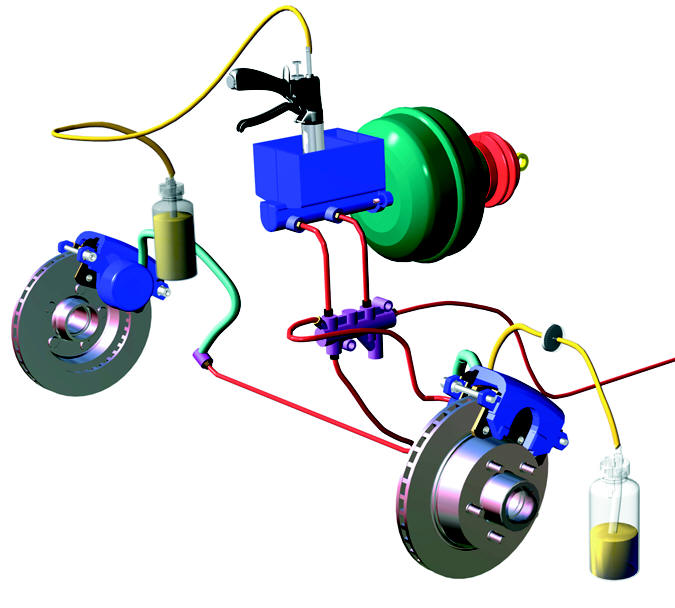 Vacuum

During vacuum bleeding negative pressure is developed in the system by the gun, utilizing each of the bleeder valves. This negative pressure or vacuum draws the fluid from the reservoir (top of system), bringing it through the system until it reaches bleeder valves (bottom of system) where it is expelled.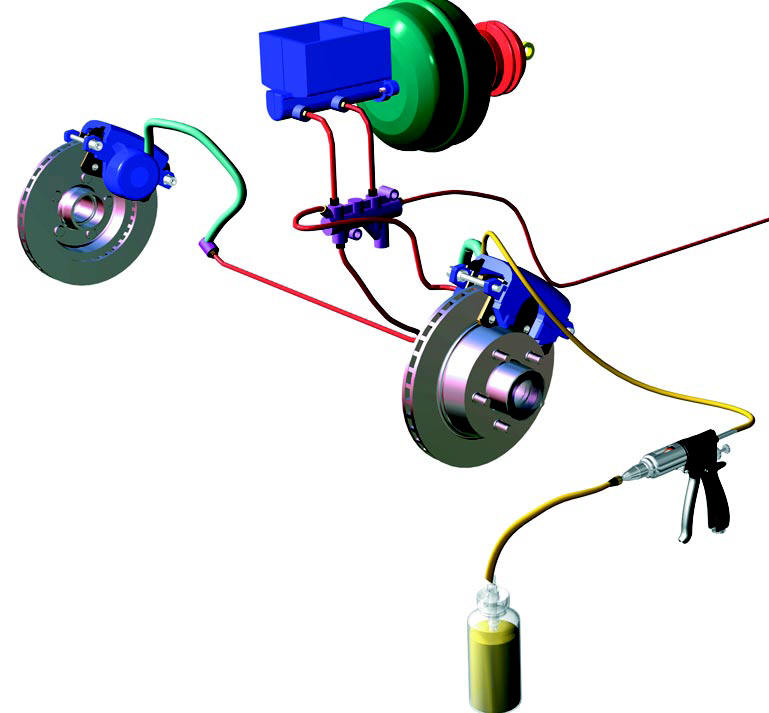 Bench

The goal of bench bleeding is to remove all of the air from the component prior to its installation. The master cylinder is typically placed in a vice and a combination of RFI™ and Pressure bleeding is generally used. The Phoenix Injector™ is unparalleled in bench bleeding any master cylinder, especially 2 and 4 outlet quick-take-up master cylinders used by Ford, GM, Chrysler and some imports.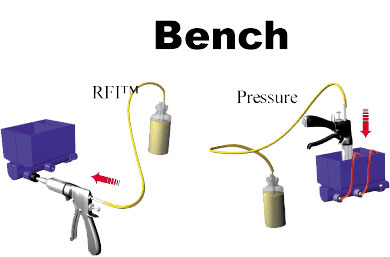 VERY IMPORTANT ACCESSORY
A MUST HAVE FOR ANY SHOP!

For ease of use with all Phoenix Bleeder Guns, this universal adapter set is a must. Just mount appropriate cap on to master cylinder reservoir and attach front hose of gun. Simply pump the handle of your gun and without stopping to refill, you can properly flush the entire brake system of any car or truck. This Universal Adapter Set and a Phoenix Bleeder Gun will save countless hours of labor every week, if you service brakes on a regular basis.
Are you ready to purchase a tool, so you can start bleeding faster?
Give the GWR sales office a call between 1pm and 8pm EST
1(800) 266-4497
You will be connected to a knowledgeable sales person
who will answer any questions and help finalize your order.


If you're not sure which Phoenix Injector is right for you, please take a look at our
Phoenix Injector Comparison
Click here for more information about ...
When you're ready to order your system, simply click appropriate gun...
"Specifications and Ordering Information"

Universal Cap Adapter | Brake Fluid Tester

---